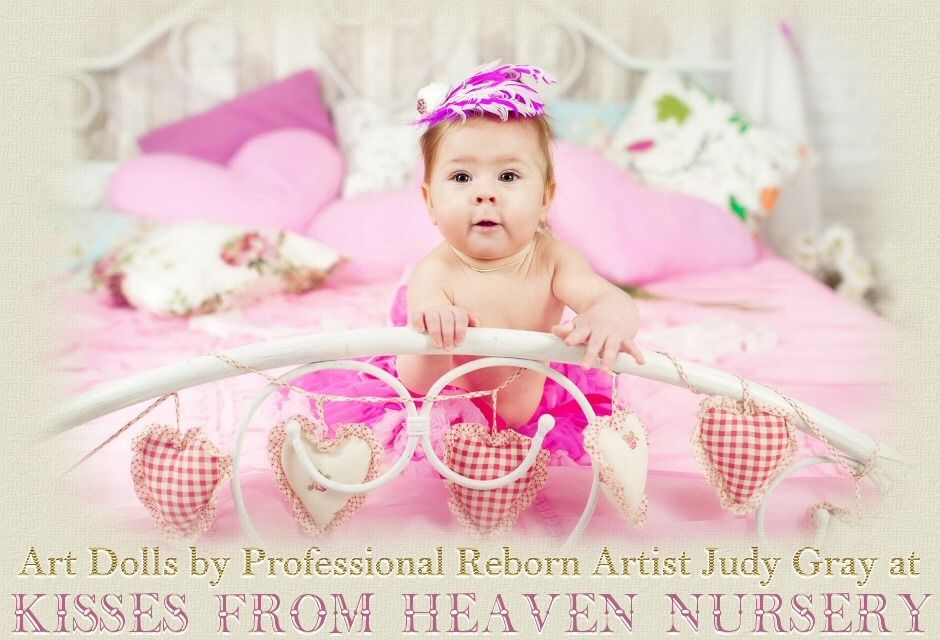 Sometimes the smallest things take up the most room in your heart
Name; TWINS Mia and Mary/
D.o.b; 31.03.16
Weight; 5lb 5oz Mia and 5lb Mary
Length; 18inches
Sculpt; Aurora Sky and Evangeline


So Happy to Introduce you to My Beautiful twin baby girls Mia and Mary. These two babies are just irresistible. Both babies are brand new sculpts by the famous Laura Lee Eagles. Mia with sleeping eyes from the Evangeline sculpt is number 1014 of 1400 sold out limited edition. Mary is from the Aurora Sky open eyed sculpt by Laura Lee Eagles number 958 of 1400 also sold out limited edition. These beautiful babies both have anatomically correct body plates which makes them ultra realistic.
I would love these beautiful twin baby girls to find a forever home together, would be so hard to split these adorable sisters up . Both twins were painted with Genesis heat set paints , very special paint that will never fade or rub off. Many layers and hours of work have been undertaken to create such beautiful realistic skin tones, with veining and mottling, just like a real living babies. These twins have so much detail.. beautiful newborns a must have for any serious doll collector or reborn lover ... Don't miss the cutest twins ever !! I do offer Layaway on these babies

Mia and Mary both have full limbs and soft suedette bodies which have been weighted just right for their size. Both babies have an Anatomically correct body plate to add to their realism, great to display babies in their crib pram etc. Beautiful very detailed hands and feet complete this wonderful realistic pair of twin baby girls by an exceptional sculptress. Bothe twins are filled with top Quality fillings, fibre fill, plastic pellets, baby fat, glass granules and steel shot. The filling is from "Peacocks Fibres" renowned for the best quality fillings for dolls and bears. The steel shot will not rust, it is quite safe, it adds weight to the babies. All my materials are of top quality nothing but the best is used on my dolls.

Mia is a sleeping baby with lovely medium brown rooted lashes and beautiful painted hair . Mary is an open eyed sculpt with beautiful big dark blue glass eyes, medium brown lashes and beautiful painted hair. Their Beautiful hand painted medium brown hair finishes the new baby look just right.. many gentle strokes with the brush, many layers to achieve a very realistic look. Such an adorable sweet pair of baby girls ,, So cute !


Both babies have pretty painted nails that have been tipped and sealed on their sweet detailed fingers and toes.

Mia an Mary both have a magnet behind their lips to hold their dummy/pacifier. These magnets can easily be removed if preferred before coming home

These babies are truly adorable, every attention to detail has been applied to them. My many customers have said many times my babies are even better in real life than the pictures .. which is very nice to know. All their photo`s have been taken outside or near a window in the daylight . Some slight light difference in the photos because they were taken different times of the day. What you see is what you get my pictures have not been tampered with in anyway. I have been working in this art for 8 years now and have loved every second of it, it is a true passion of mine and have been a lover of dolls all my life . I have sold my babies from my website and shows etc. . My babies have travelled all over the world. Take a Look at my feedback for the babies I have sold here, it's all good . You will not be disappointed with a baby from Kisses From Heaven Nursery I can assure you . I have great feedback for my many babies, from my many returning customers from all over the world. Many of my customers travel miles to collect the babies themselves from my nursery and have tea and biscuits with me before taking their babies home.

I was very proud last year to get one of my creations on the front cover of the very renown Doll Magazine "Doll Collector"

I am also very proud to be a member of the "Guild of Master Craftsmen" with my work .. A true honour!

I was made a Diamond member of the "Exceptional Reborn Artistry Guild" in 2012

I am also very honoured to have a doll displayed in a permanent exhibition in "The Museum of Dolls Nada" in the Czech Republic .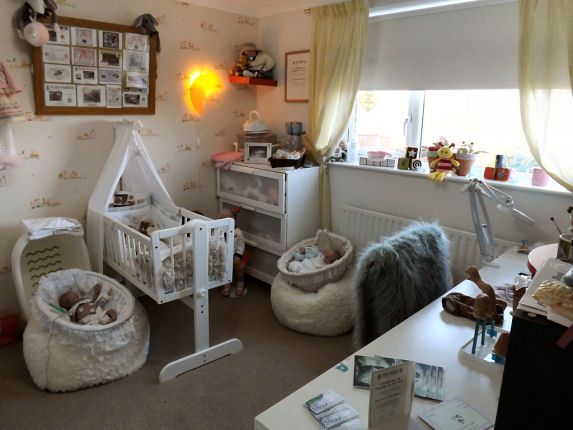 My Nursery where my Babies come to life








Mia and Mary Will bring home beautiful Layette`s consisting of...
Beautiful Designer outfit from "Its By Clare" and only one of each is ever made . The stunning little outfits let the girls be posed with their tummies showing . Beautiful cotton knickers with diamond button decoration on the front of them, attached to a pretty bow. Crochet bonnet threaded with ribbon, also cute little knitted shoes. Both are a different shade of Lilac and grey, as I said Clare never makes two garments exactly the same so very bespoke. ....
Outfit number two are very sweet all in one sets, from Mothercare, with matching hats and mittens. So pretty in cream, with pretty pink flowers all over the little full sleeved over dresses. Such cute sets !
vest, nappy
Blanket
cuddly bear soft toy
Dummy/pacifier
certificate of authenticity, birth certificate and care instructions.
Mia and Mary will be packed very securely and double boxed . White inner box and brown outer box with plenty of bubble wrap to keep them safe on their journey home
My Babies travel all around the world they have always arrived safe and sound xx

1st class recorded in UK I will post Worldwide contact me for postage details.
I prefer payment through paypal or bank transfer but will take cheques. Of course the cheque would have to clear before I post the Reborn.

I will take returns if the baby is damaged in any way when she arrives home . I know my babies are of the finest quality, I create them with a real passion so am very confident that you would not want to return for any other reason than being damage . I must say this has never happened as yet and hope it never does I pack my babies very well to reach their destinations safely. They travel far and wide. ..
ANYONE WITH LESS THAN 5 FEEDBACK PLEASE CONTACT ME BEFORE BIDDING" ..